When I arrived at Kings Place for my first visit to New Video Frontiers and made my way to collect my badge, I was surprised to see just how many people had turned out to learn more about video & CTV advertising in Europe. A line snaked around the venue and as I reached the back of the queue, I heard someone say "well looking at the line, I guess Connected TV really is the future of advertising". What followed was a day full of exciting predictions, insights and discussions over the relationship between CTV and advertising and ultimately, how this relationship is going to be definitive in shaping how we all consume our content in the future.
The CTV moment
The first session of the day set the tone. Titled "All eyes on streaming", a fireside chat with Freewheel and SportsTribal, the session featured eye-watering stats about the rise of Connected TV in Europe. A survey from Freewheel revealed that 89% of connected TV viewers in Europe engage with streaming video or other forms of VOD and that 40% of AVOD users are streaming on a daily basis. This opening session made it clear that consumers are flocking in their droves to CTV and the opportunities for advertisers are only getting bigger.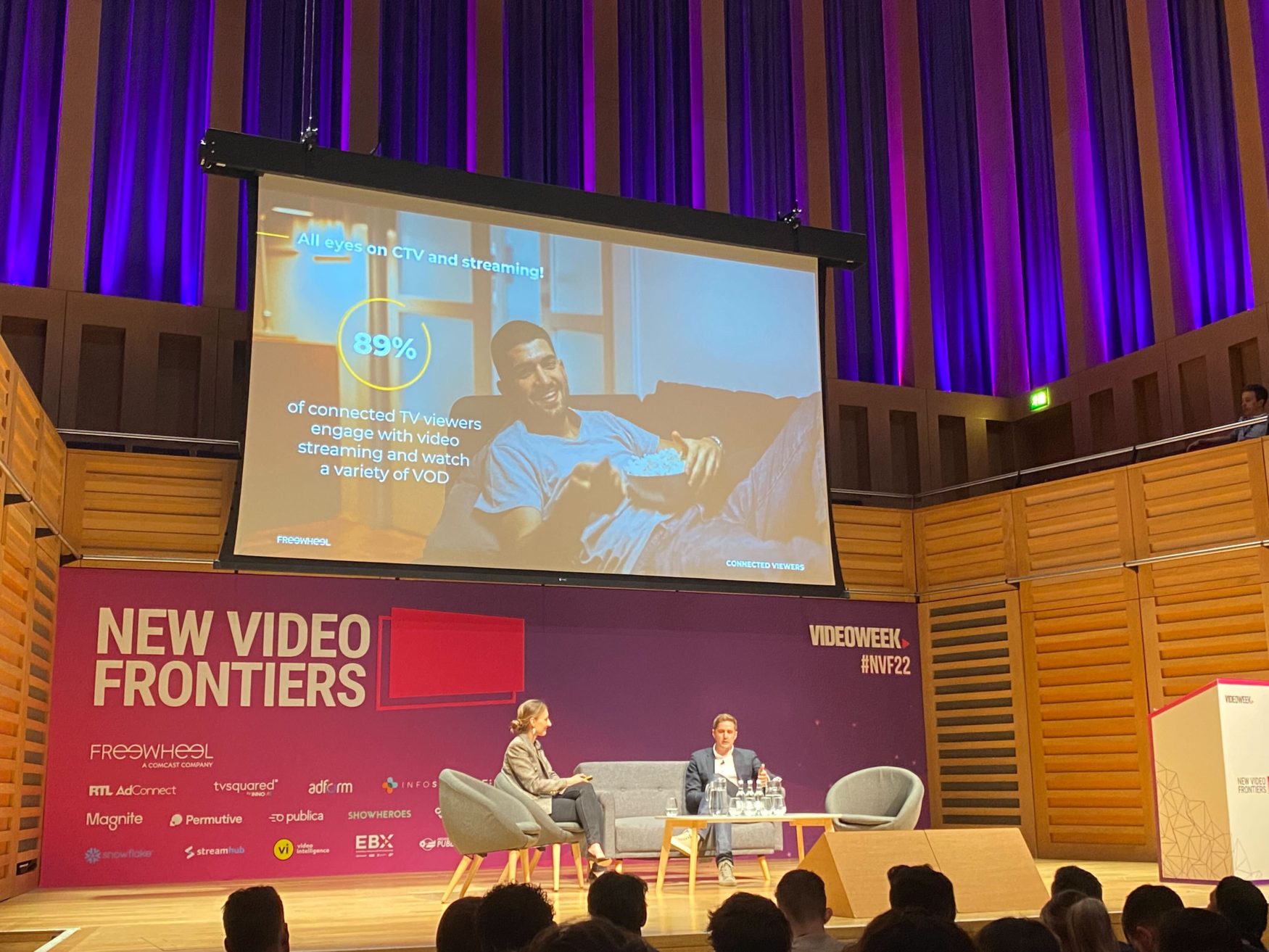 Later in a session called "What would a CTV Utopia look like?", Patrick Zinga, the Automated Media and Technology Lead at Heineken made it clear that advertisers are waking up to the opportunities presented by CTV, asserting that "there is a significant decrease in linear TV. People are streaming video more than ever and have more control to watch how they want – so as a brand we need to follow that". One recent CTV campaign with Heineken saw an increase in brand awareness by 55%.
Anabel González, Senior Programmatic Manager at HP added to this sentiment, stating that advertisers are seeing "a trend of consumers going to the CTV environment which makes it very attractive to us", explaining that advertisers should be following their customer to the platforms they favour.
Coming from a CTV app development company, I have to admit that I was surprised to learn how CTV was so often referred to as a "new" and "novel" technology across the day, considering that we have been seeing growing consumer adoption in this space for so many years. It was, however, exciting to see that the advertising industry is finally waking up to the importance of CTV and indicates that there are a lot more opportunities still to be discovered and explored in CTV streaming.
Learn more about Connected TV from the experts themselves.
Contact us now
Hard times ahead for SVOD
In the wake of the recent news that Netflix had lost 200,000 subscribers, it was unsurprising that Netflix was the word on everyone's lips. It is not an industry secret that the consensus is that the SVOD model cannot sustain and change is afoot. Netflix and Disney+ have both confirmed that they will be introducing ads in some form soon and a session from Roku reaffirmed that AVOD is on the rise, with Roku seeing a six times rise in AVOD services, while Lloyds bank has recently seen £1.2m of subscription payments cancelled in the UK, 47% of which were streaming services.
One of the most illuminating and bold predictions came from Ian Whittaker, Founder & Managing Director of Liberty Sky Advisors. Whittaker explained how the SVOD market has become saturated and painted a bleak picture for the future of subscription services. With the unprecedented rise in inflation, he explained that consumers are cutting costs and the first place where savings are made is through cutting luxury expenses like streaming subscriptions.
Whittaker also forecast that in these trying times, it will again be Netflix who lose out to their competitors. The major players, he said, are "locked into a vicious cost spiral" battling to buy and produce content to set themselves apart, while trying to meet investor expectations. When examining the major competitors, he showed how Comcast and Disney have more cash at their disposal than Netflix. However, in Whittaker's opinion, the real winners will be the tech giants – Amazon and Apple. Their enormous cash reserves stand them in good stead to squash Netflix like an insignificant bug in the streaming ecosystem if they so choose. With Apple TV investing in MLB and NFL sporting rights, and Amazon working with the Premier League and Tennis federations, in Whittaker's words, "it's going to be brutal and they're going to need a lot of cash."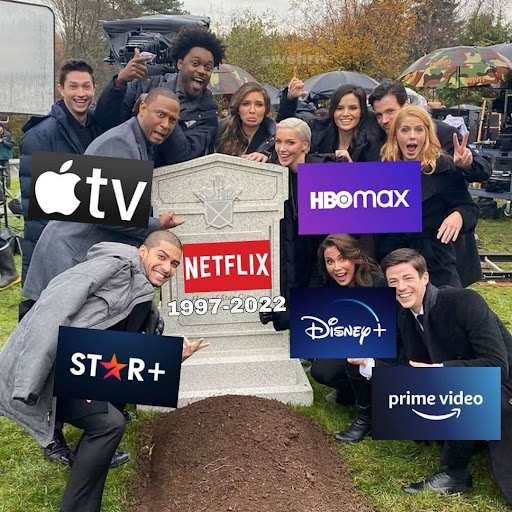 The challenges facing advertising on CTV
Advertising on CTV is still not considered as prestigious to advertisers or brands as traditional TV advertising. While consumer habits show that CTV is the future of streaming, the advertising industry and technology has some way to go to make this the truly dominant avenue for ad budgets.
Countless speakers across the day also spoke of the genuine and relatable frustrations of watching content through CTV only to be served the same ad on repeat through all ad breaks across every episode of a VOD show, or seeing the same ad for months and months. Ad tech needs serious improvements if advertisers are going to trust CTV as a reliable and effective platform for their ads.
The other major challenge facing CTV is data. While it may be easier to track user habits on CTV compared to linear, there seems to be little agreed industry standards and a struggle to find consensus on what metrics are true indicators of success for ads on CTV. Tracking is also a challenge. However, Alexandra Wright, Digital Programmatic Lead at Channel 4, made it clear that there are more and more tech providers creating services to understand consumer journeys within CTV and how to follow them onto other platforms (such as mobile phones). Wright appeared confident that improvements to CTV advertising are fast approaching.
CTV ad space is still cheaper than linear and will need to make clear improvements to tracking, analytics and metrics, as well as improvements to ad serving technology to truly compete with traditional linear TV advertising. However, while advertising still favours linear, they may well have no choice but to follow their customer to CTV if that's what their customers demand. If the industry can overcome these challenges, there are opportunities for innovation which will allow for better targeting, better ads and benefits for both advertisers and consumers.
Conclusions
New Video Frontiers was teeming with interesting insights, hot takes and strong predictions. The Connected TV moment is here and it's showing no signs of abating, but with the decline of SVOD and the rise of AVOD, there has never been a better time for advertisers to invest in the CTV space. If the platforms can overcome the technological challenges of advertising on streaming services and provide the metrics that the advertisers need to prove a real return on investment, then we could see better advertising with better results. It's safe to say that whether you're a technology company like FX Digital, an advertiser, a brand, a streaming platform or a consumer, all eyes will be on what comes next for advertising and CTV.