Voice technology is rapidly improving and creating more and more opportunities for brands to communicate with their audiences. Smart Speaker ownership is greatest amongst millennials and therefore creating a Voice Skill was ideal for Contiki's target market. Contiki identified a customer need for packing assistance and the Pack My Bags voice skill followed.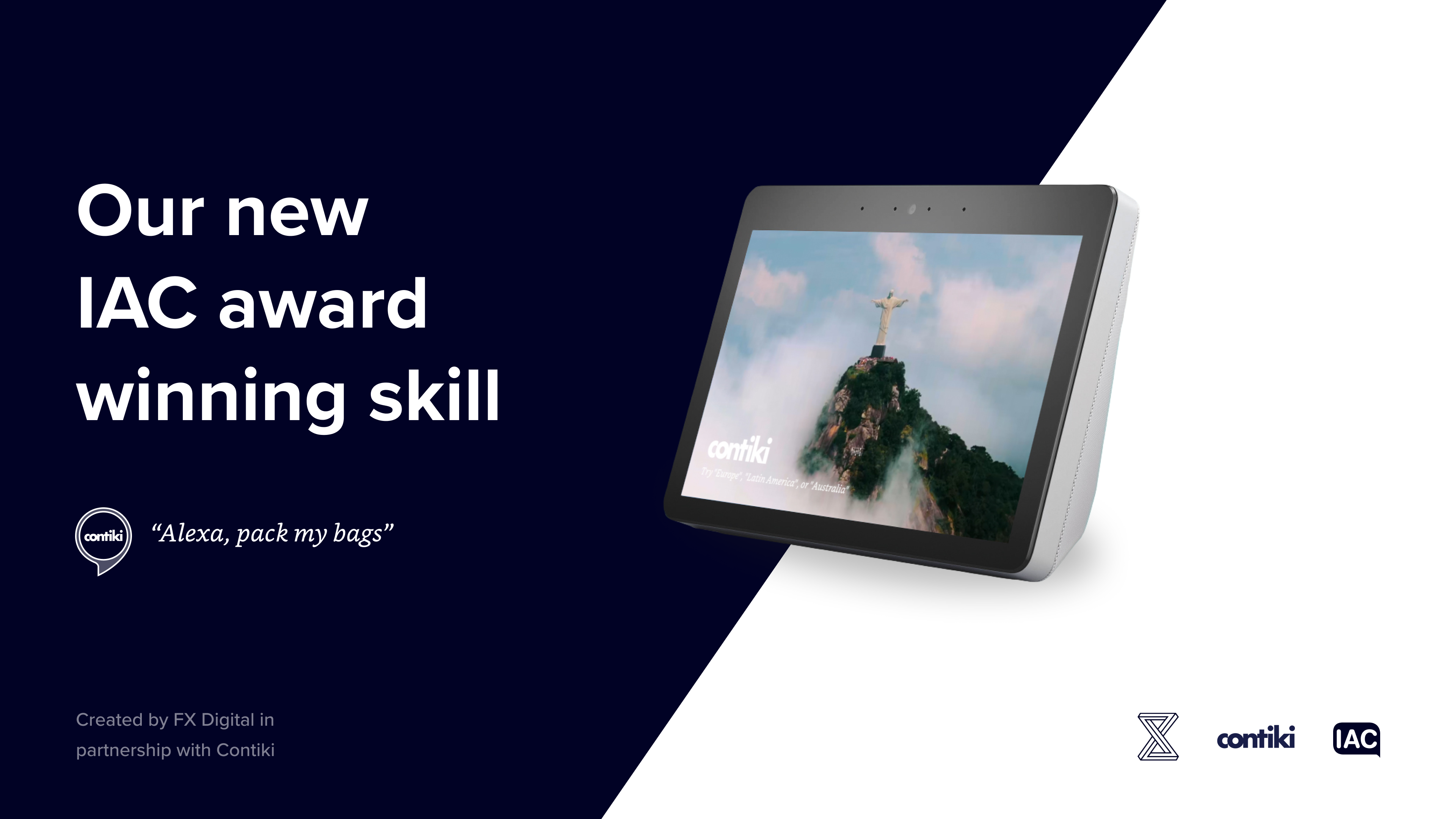 FX Digital created multiple voice flows to allow customers to interact with Alexa for packing advice for destinations around the world. The Alexa voice skill also utilises lists within the Alexa app, collating the packing list for user convenience. Pack My Bags also features email integration, with users able to have their packing list emailed to them.
FX Digital is pushing the boundaries of voice technology, to create cutting-edge Voice experiences for brands across a variety of industries. Pack My Bags features a CMS that allows for new destinations to be programmed by the Contiki team, as well as an integration with Google Analytics to allow for a better understanding of how the Skill is used. Pack My Bags also has sonic and visual branding elements, making it compatible with Smart Speakers with screens, such as the Echo Show and Amazon Fire TV.
Matt Duhig, Co-Founder, FX Digital, said:
"We are so passionate about Voice technology and are elated to be recognised for our work in this field. The award win comes as a great boost at an uncertain time for the travel industry and advertising industry, which have both felt the ripples of the COVID-19 Pandemic. We are lucky to work with innovative clients like Contiki who are keen to invest in emerging technologies and we are really proud to see this recognised by the IAC. "
Lottie Norman, Head of Content, Contiki, added:
"At Contiki, we are constantly pushing ourselves to develop new and engaging content and channels that truly connect with our audiences and builds on our amazing travel experiences. For us Voice technology provided a great opportunity to create a skill that was both fun and useful for users whilst still capturing Contiki's exciting brand identity along the way. We're thrilled to be recognised with this award and are excited about further evolving our voice capabilities with the support of FX Digital."