As the OTT landscape continues to evolve at a rapid pace, we are seeing further innovation and interactivity being applied to video streaming experiences. In this article, I will take a look at some examples in the industry that are setting new standards and creating new experiences for interactive video, as well as what's in store for interactive OTT in the future.
Clickable Overlays
Leveraging clickable overlays in video is a great way to provide further information or contextually relevant content to users. In more recent years, we have seen Artificial Intelligence (AI) play a bigger role in analysing video to detect things such as exciting moments, product placement and famous people. In a previous article, we discussed how this is impacting and shaping the future of OTT & E-commerce.
In the example below, we can see clickable overlays being applied during a Wolves football match, developed by the AI technology company Edisn. Users can select a player mid-game to pull up their bio, interesting stats and even related merchandise. On top of this, sponsored adverts within the video can become clickable, making advertising far more effective while positively impacting conversion rates and making it easier to track the success of the ad campaign.
Providing this additional layer of interactivity not only enhances the experience and keeps users engaged, but also opens up additional revenue streams and more deeply integrated advertisement opportunities.
Take audience engagement to the next level with an OTT app.
Contact us now
BT Sports Manager & Hype Mode
For the Premier League season, BT Sport has released several new interactive features to matches on their award-winning app, with both Manager Mode and Hype Mode introduced. These features and interactions are designed to enhance the experience, providing an unparalleled viewing experience like no other to break new ground in the world of sports broadcasting.
The 'Manager Mode' on the BT Sport app provides users with a deeper match day experience. Fans of the sport can see additional information such as the location of key touches in the opposite half and player speed data in a key phase of play, all providing viewers with data-led insights as the game progresses. As a viewer, you can also overlay the trajectory of the ball to easily track specific plays and tactics – a great feature for hardcore football fans.
As well as these ground-breaking new features, the video player also incorporates an interactive timeline feature inspired by YouTube's time stamping feature. This timeline highlights key moments within the match and allows fans to re-watch key moments, switching between these and the live match.
In the video below, you can see these exciting features in full effect.
When it comes to interactive video, sport lends itself extremely well to this type of experience. Whether it's dedicated fans demanding every statistic and wanting the option to rewatch match plays and tactics, to the more casual viewer who feels that these new features enhance their experience and make it easier and more enjoyable to follow, there's something for everyone.
Inspired by Instagram & TikTok filters, BT Sport also brought in a new feature known as 'Hype Mode'. This is a fun, action-based AR overlay that enhances a match by exaggerating exciting moments. From Cartoon 'Ka Booms' trailing a powerful shot, to blazes of fire and smoke for the fast-moving players, Hype Mode is definitely the first of its kind. Whilst this is purely a visual fun delight, it's interesting to see BT take this approach. As a way to engage with a younger audience (and even adults), it's brilliant to see continued innovation happening in the space, providing new and exciting viewing experiences for both children and families.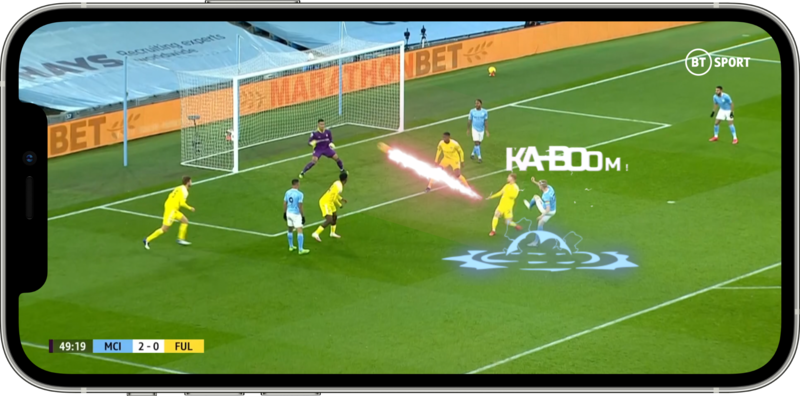 Fitness Apps
In recent times, we have seen a rapid rise in the usage of fitness apps that offer live workout classes, workout plans, nutrition advice and wellness plans that people can engage with from the comfort of their own homes. Fiit, one of the most popular fitness apps currently on the market, includes a wide range of innovative and cutting-edge features. Within the app, Fiit users have the option to connect a fitness tracker to leverage statistical screen overlays which provide users with performance stats such as heart rate, calories burned, reps completed and Fiit Points earned. As well as this, Fiit has its own leaderboard, bringing in a social aspect that allows users to compete against each other across the various workouts and challenges. There's nothing like a healthy bit of competition.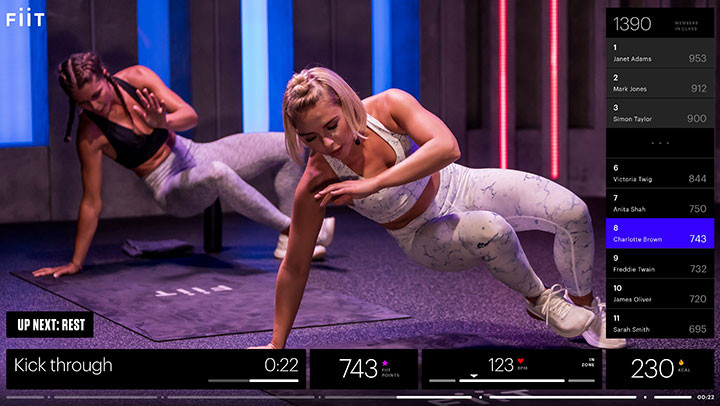 With real-time stats available to view on the screen, Fiit has created a far richer exercise experience by not only keeping users informed on their progress and fitness stats, but also by creating a motivational incentive to push that last rep or burn those extra few calories. With the added leaderboard feature, Fiit also encompasses a real sense of community through friendly competition, which is incredibly powerful at keeping an audience engaged and active. It's this type of innovation that sets Fiit apart from the rest, and with their interactive features keeping users engaged, Fiit is managing to retain an audience and reduce its churn which is incredibly important for the brand.
Interactive Storytelling
Netflix is certainly no stranger to interactive video, hosting a number of popular TV shows and movies on their platform such as Black Mirror: Bandersnatch and Unbreakable Kimmy Schmidt: Kimmy vs the Reverend. Netflix applies interactive storytelling to popular titles allowing users to make choices for characters that shape the story as a title progresses, with each choice leading to a different adventure. By giving people the power and freedom to shape their own interactive experience, Netflix has created an extremely fun and engaging way to experience the Netflix platform that not only attracts new users, but helps to reduce that all important churn rate.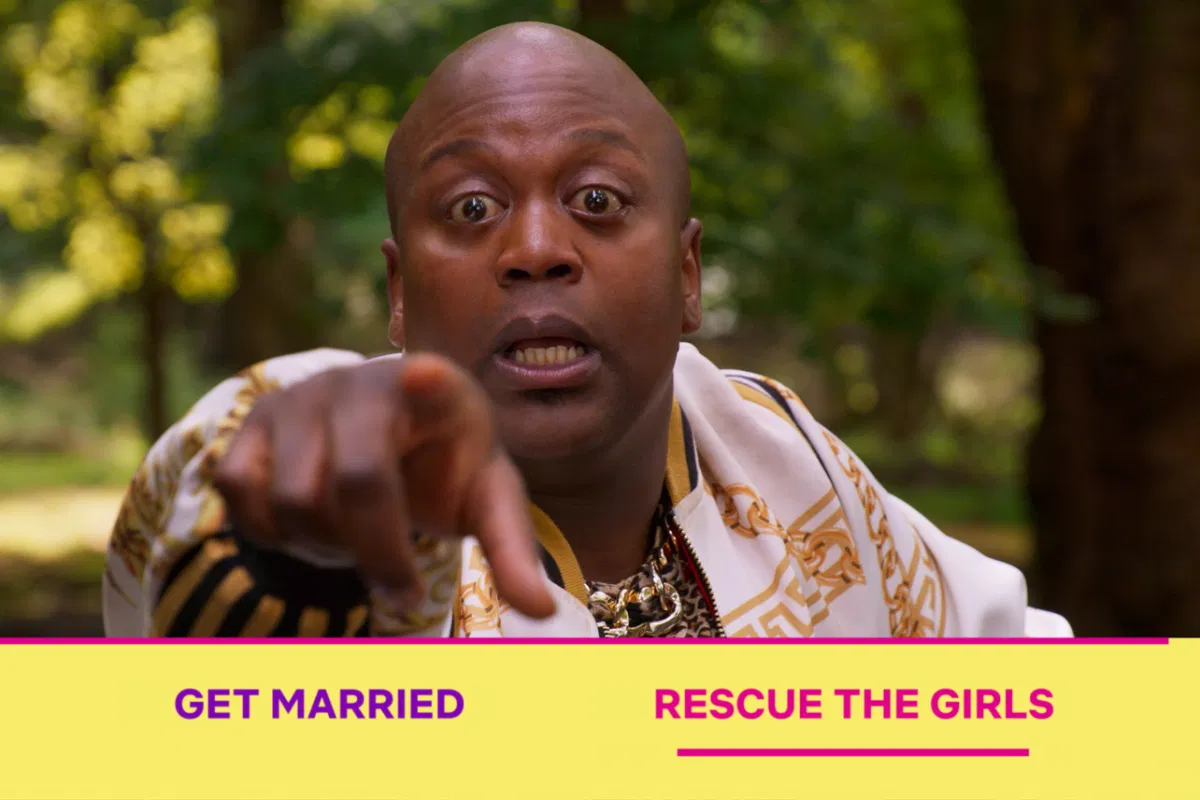 Unbreakable Kimmy Schmidt: Kimmy vs the Reverend
Throughout these interactive stories, users are given a short time limit to make a decision to move the story forward, and while these experiences are extremely engaging, they can come with their challenges. For example, selecting options that lead to dead-ends, or selections that don't impact the story in any meaningful way, can make the experience feel relatively trivial and unnecessary. Without dramatically increasing the length and cost of production to make richer storylines with alternative endings, it seems this type of interactive content is purely a novelty for the time being.
One industry that has developed this type of interactive media into a fine art is the video game industry. With popular titles such as Heavy Rain, Until Dawn and the more recent highly immersive Detroit: Become Human, it's clear that these titles have heavily invested in well written, lengthy storylines with multiple choices that dramatically impact the game's ending, to create a so far unmatched experience.
Create a premium video experience for your viewers.
Contact us now
Kids & Storytelling
Kids programming and the incorporation of interactive storytelling mechanics within this have proven to be extremely popular. With platforms such as Hopster, Azoomee, and Amazon Kids+, children have becomed used to engaging with interactive media across a range of devices such as iPads, smartphones and voice technologies.
In recent times, children are now becoming accustomed to the interactivity that they're used to, but on the big screen. As we see voice controls continuing to grow in popularity across OTT, we can no doubt expect to see a future of interactive kids TV shows that can be powered through voice controls.
Second Screen Experience
With 70% of US adults regularly using another digital device while watching TV, it's apparent that there's a huge opportunity for Connected TV applications to tap into these devices to help reach new audiences.
For example, Connected TV applications could look to provide users with a voting experience via their smartphone, such as who will be the winning team in a sports match, or taking part in an interactive gameshow. Whether it's through deep linking to upsell products, subscriptions or to provide additional information, this clearly a fruitful market for Connected TV apps to invest in.
Take Monterosa for example, a real-time engagement platform helping brands to connect with viewers in a multitude of different ways. Monterosa allows TV apps to maximise engagement and revenue by providing viewers with a second-screen experience through voting and polling, competitions, merchandise or notifications.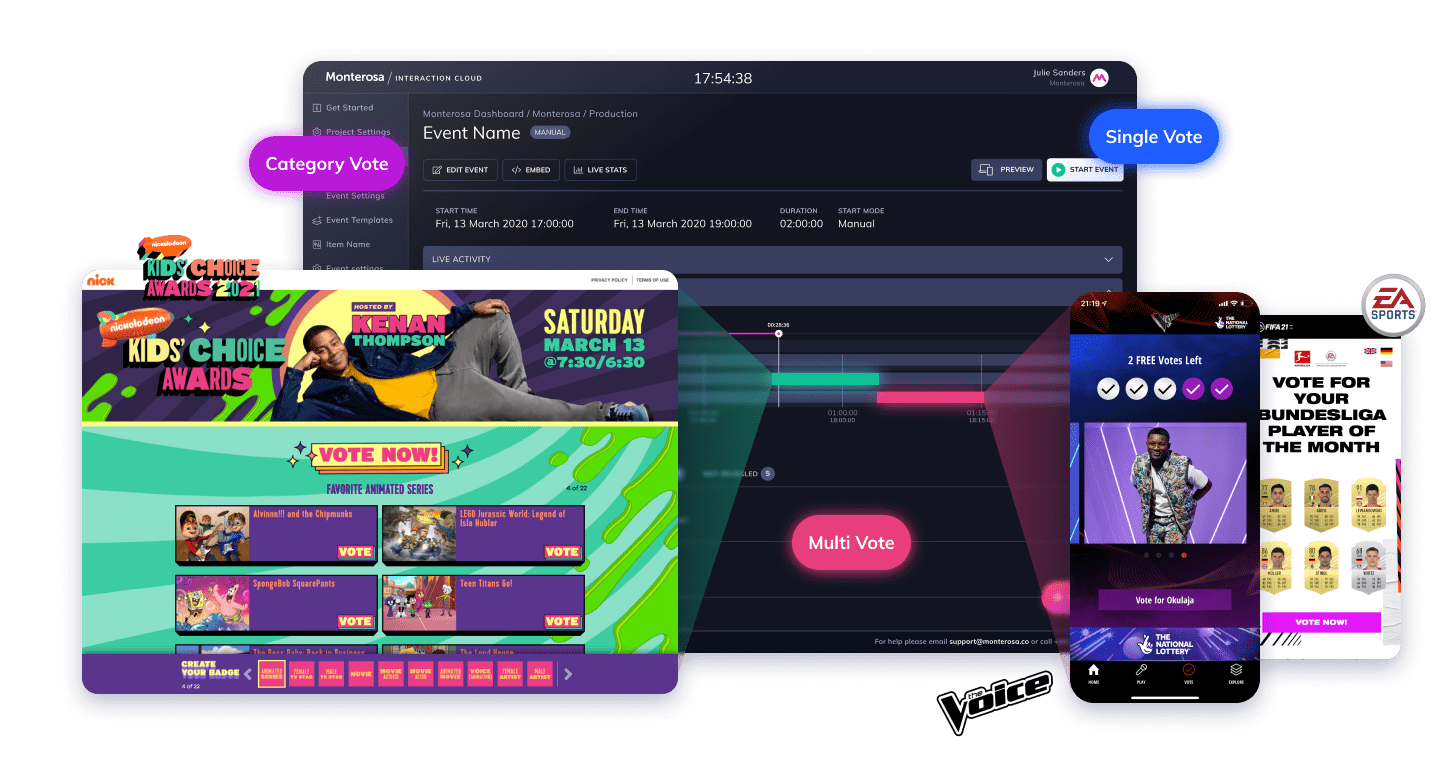 Rather than having audience members scrolling through social media feeds or browsing the web, Connected TV applications can provide an alternative second screen experience that continues the user journey across platforms. There's a constant opportunity to reengage with users through a second screen, and it's certainly one that Connected TV apps should grab with both hands.
Watch Parties
The pandemic not only supercharged online streaming with a staggering 62% increase in streaming time in the UK in 2020, but also how we interact with one another on a daily basis. As Zoom and Google Hangouts became part of our everyday lives, OTT providers followed suit by integrating similar functionality in the form of watch parties. This new feature is something that's made streaming a far more social event no matter where you are in the world, whether that be tuning in to watch the latest football match with your friends or simply watching a film with the family. These additions to streaming platforms make watching video more meaningful as it becomes a shared experience and certainly brings that togetherness element which is something we have all craved these last eighteen months.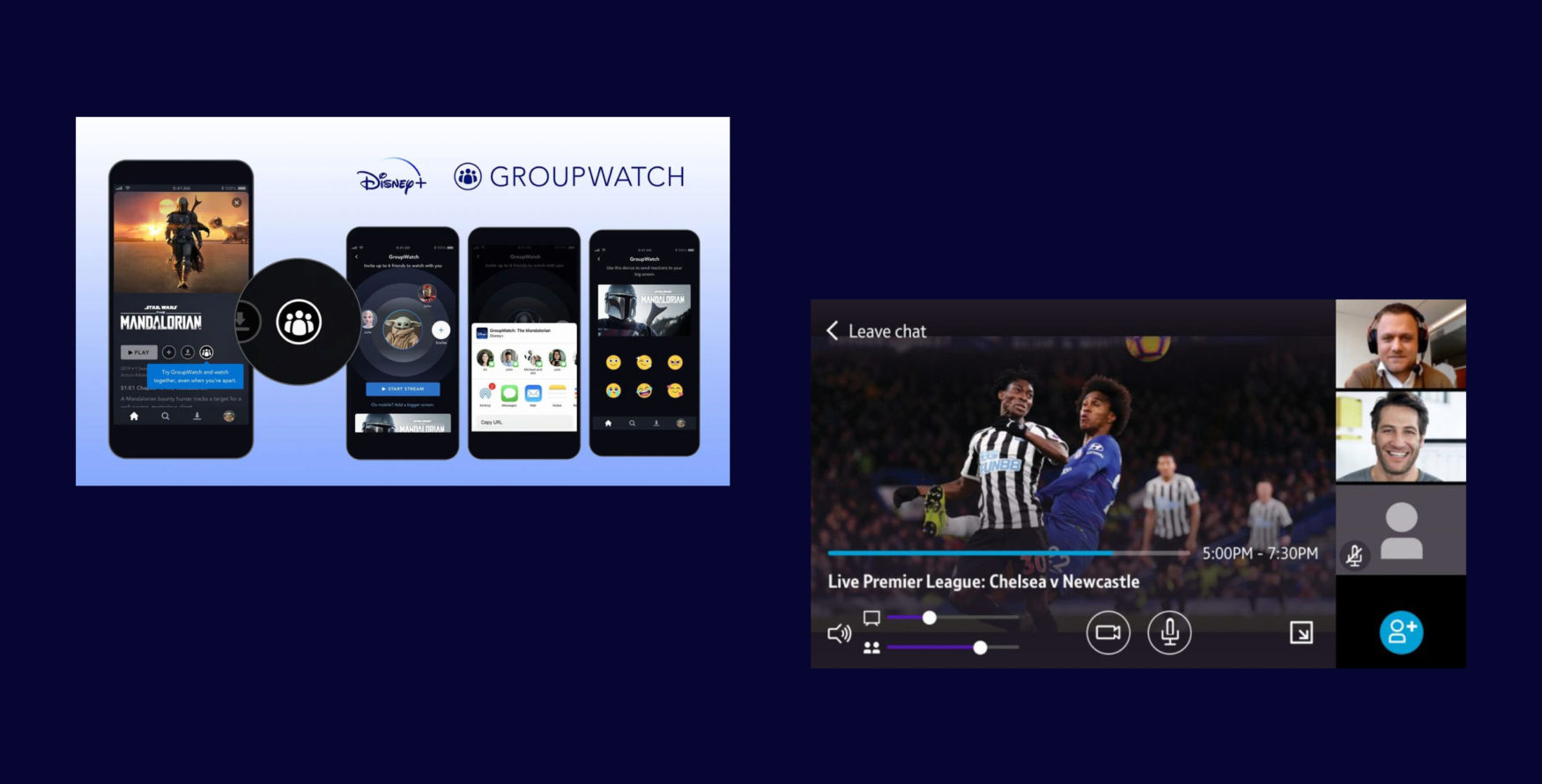 I anticipate these group watching experiences will continue to grow in the future, especially as some of the bigger tech companies such as Facebook integrate similar functionality in their application and on their Portal TV device.
Interactive Advertising
When we think of interactive video, we often gravitate towards the core content such as TV shows, films or sports matches. But interactive video in the form of AVOD (Advertising Video On Demand) is an incredibly powerful tool that shouldn't be overlooked. Generally, AVOD is often more common across desktop and smartphone devices.
As an example, WIREWAX, a leading interactive video technology platform, utilise AVOD exceptionally well with their interactive Football Manager trailer.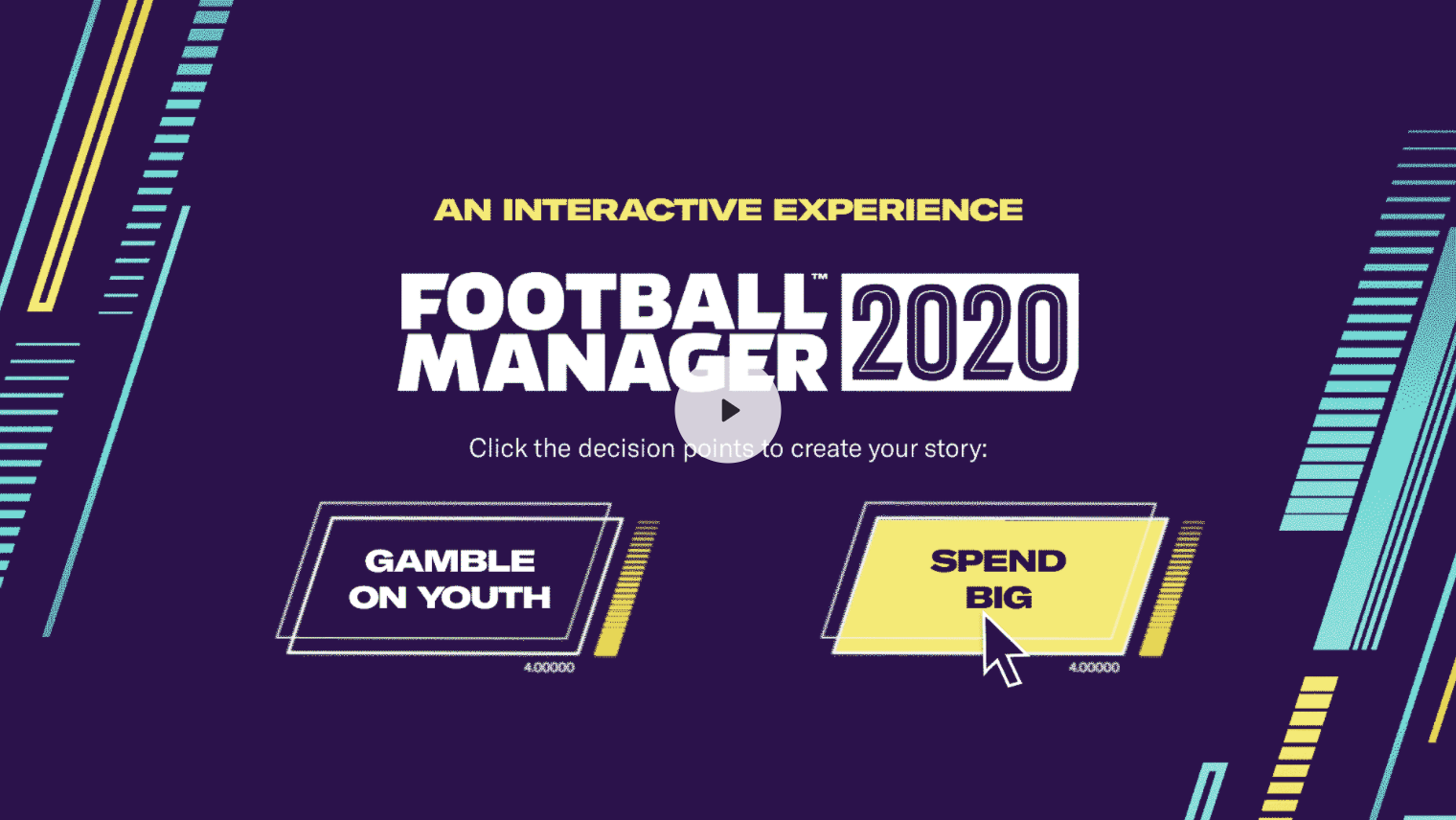 Througout the trailer, the ad audience has the ability to make decisions that reflect the same level of interactivity that's experienced within the game itself. For example, allowing the audience to 'gamble on youth' or 'spend big' and purchase well known players, means viewers are instantly drawn in and immersed within the experience. This Football Manager ad in particular accumulated a 51% interaction rate with an average watch time of 75 seconds, as well as an average of 4.4 interactions per viewer. These impressive stats symbolise that when an interactive video is executed properly, with the right blend of strategy and creativity, it can yield some truly extraordinary results.
AVOD has continued to grow in popularity over the years, with many brands jumping back into the AVOD model as consumers are showing signs of increasing subscription fatigue. As this is the case, ads will have to be extremely captivating and engaging in what is becoming a heavily crowded market, which is why we predict seeing more interactive video advertising coming to OTT in the future.
Conclusion
It's great to see interactivity become more deeply integrated into video playback, and while some levels of interactivity may feel gimmicky or unnecessary, other examples create a far richer, immersive experience, and one that benefits viewers and OTT providers alike.
With the examples laid out above, it's apparent that OTT services are putting users at the heart of the action more than ever before. Through a wide range of interactive features that create memorable experiences, we are seeing new standards set across the industry, with the future of OTT looking extremely exciting.