Chatbots
FX Digital and Contiki created a secret chatbot to throw an exclusive party for some lucky Contiki customers.
Emerging
tech experts

and the

youth travel

specialists

team up

again
After FX Digital and Contiki's successful collaboration on the "Pack My Bags" Alexa skill, the emerging tech experts and the youth travel specialists teamed-up again, this time to create a secret chatbot.
Going
dark

with the

Secret

Contiki Chatbot

Contiki identified that their target demographic – 18 to 35-year-olds – are turning their back on traditional social media. Younger users are wising-up to corporate attempts at "going viral" and are not as quick to share posts publicly on their social channels. Instead, Gen Z prefers WhatsApp, Snapchat, Instagram DMs and Facebook Messenger. Encouraging engagement with public posts is proving more and more challenging. Keen to buck this traditional trend, Contiki sought out a campaign that could harness the power of "dark social".

Contiki partnered with Generator, an affordable luxury hostel brand, to treat Contiki customers – whose tours were ending in Amsterdam – to an exclusive, epic private party in an undisclosed location. The challenge facing Contiki was how to communicate, to five separate tour groups, that they were invited to a secret party. It was here that FX Digital and Contiki collaborated on the Secret Contiki Chatbot.

Contiki was not searching for public visibility but instead looking to implement a holistic branding exercise. They were keen to see how a group of young travellers would respond to having their night taken over. The result was an unforgettable night for some lucky Contiki customers.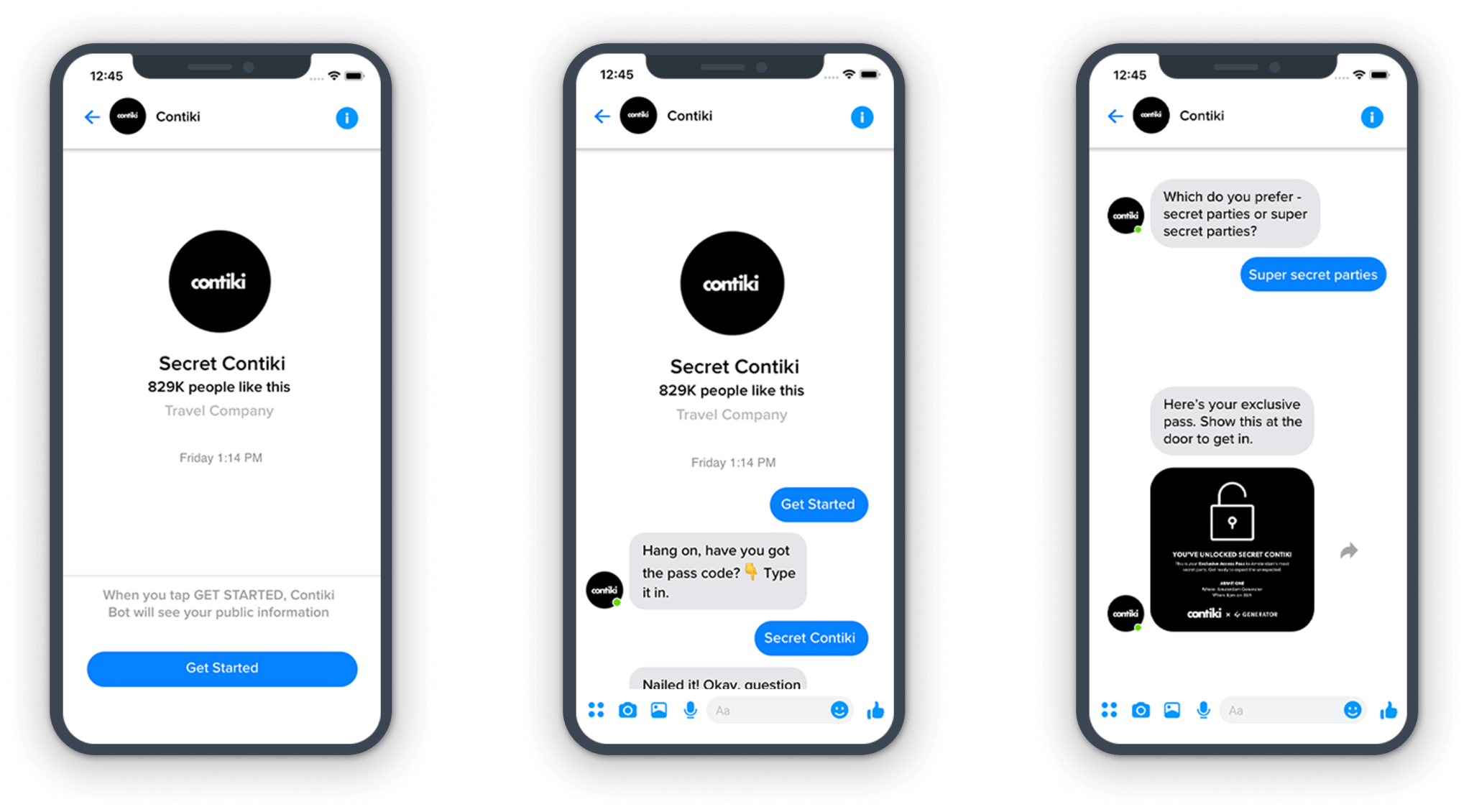 RSVP'ing in
style
To develop the secret Facebook Messenger bot, FX Digital used a conversational tree structure to map the conversation flow on the platform Dialogueflow. Machine learning was used to ensure that the chatbot could respond to typos or mistakes. Further, Gifs and emojis were implemented to increase engagement.
FX Digital created a Facebook application, with the settings configured to link to the "Secret Contiki" Facebook Page. The application was verified by Facebook. After testing, the Facebook Messenger bot went live for the Contiki team to disseminate to their tour groups. The resulting chatbot can be seen in action below:
The tour leaders airdropped an exclusive invite to a small number of their group members. Contiki was astounded with how quickly word spread amongst their customers, with over 75% of party attendees using the chatbot to get their exclusive party pass.
The secret Contiki party was a massive success. Contiki are looking forward to surprising more customers in the new year.