Voice
The story of how Contiki came to work with FX Digital and created a unique Alexa voice skill to help customers and increase brand awareness
Providing the
best connected experiences

for their

customers
Founded in New Zealand in 1961, Contiki has provided unforgettable travel experiences for 18 to 35-year-olds for nearly sixty years. The travel industry is fiercely competitive and Contiki have managed to sustain and thrive due to their constant drive for innovation. It was Contiki's habit of always being one step ahead of their business rivals, as well as their desire to provide the best connected experiences for their customers, which led them to FX Digital.
Contiki identified voice assistants as a huge opportunity to connect with their target market. There is a range of statistics that suggest Contiki's customer base are the same consumers who engage most with voice technology. For example, this year it was reported that 45% of millennials use voice-enabled digital assistants while shopping. Another study says 47.4% of the smart home market comprises of 18 – 34 year-olds.
Contiki turned to FX Digital to make use of the skills of our talented voice experience designers and developers. Voice seemed like a natural channel to explore and with this came the idea for the "Pack My Bags" Alexa skill. A simple, yet effective way to help young travellers pack for their adventures and a fantastic tool to expand Contiki's brand reach.
Your new
favourite

travel companion

Contiki realised there was a demand from their customer base for assistance when they were packing for their travels. The opportunity was identified by researching the best performing content on Contiki's publisher site Six-Two, which highlighted the need for utility content to enrich traveller's experiences.

As part of the Contiki Cares initiative, Contiki was keen to include their message of environmentally conscious travelling. This inspired Contiki to build their voice skill around helping users to pack more sustainably. The "Pack My Bags" voice skill was designed to recommend products that are more sustainable, such as ocean-friendly sunscreen and discouraging the use of single-use plastics.

FX Digital's role was to make Contiki's voice skill vision a reality. We set out to create a voice skill for Alexa that was both fun and useful for users, capturing Contiki's youthful and exciting brand identity.
Building

Contiki's Voice Skill

When starting out, there were a number of factors to consider. We discussed challenges such as which destinations should we build the "Pack My Bags" voice skill for? How would our skill cater to different types of excursions? Should our skill provide different answers for different seasons and climates? A customer visiting Austria in the winter for a ski holiday would require completely different answers to one visiting Australia for a beach holiday in the summer.

The decision was made to focus the initial build on helping users pack for Contiki related trips. This meant creating conversations around Contiki's most popular travel destinations. Tailoring each possible conversation to Contiki's most popular travel destinations helped us provide more accurate answers for the user.

We collaborated with Contiki to build scripts, such as the one below: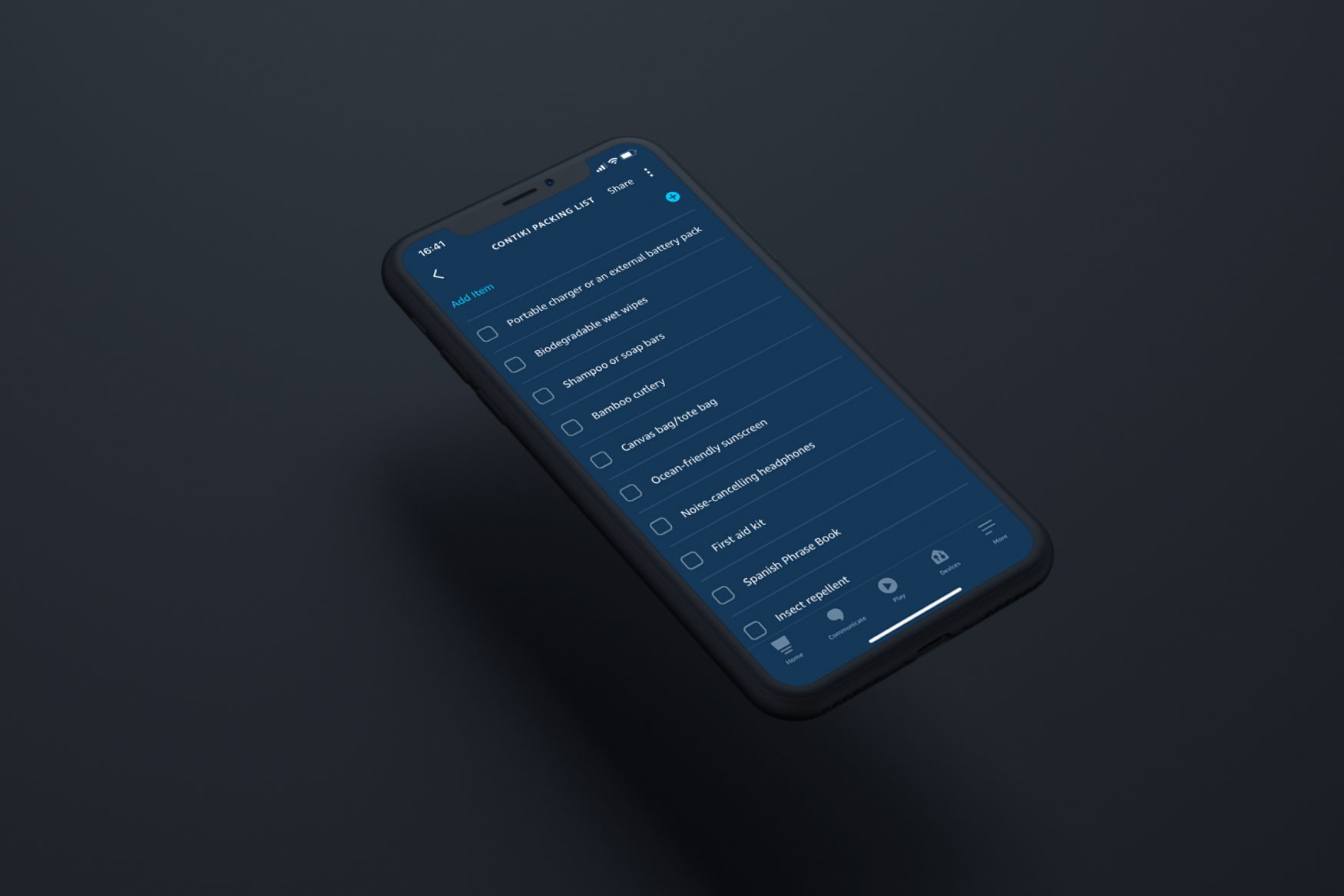 One major issue we faced with initial UX testing was that the API used to pull in the location when conversing with Alexa would often confuse destinations. For example, there are 11 cities named Paris worldwide. The majority of users would be searching for Paris, France. Initially, when faced with a destination name that can be found across the world, Alexa would not be able to recognise the place at all. Therefore, we had to manually ensure that each response would match the correct destination – a lengthy but worthwhile process!
Enhancing

the experience

After the UX phase was complete, we were left with a great skill that fulfilled Contiki's customers' desires. However, we spotted several opportunities to enhance Contiki's voice skill experience. This began with including sonic branding as part of the interaction. We took Contiki's own Podcast jingle and integrated it into the Alexa skill. In addition, to enrich the user experience, we added visual elements to the skill. This enhances the experience for those using it with Smart Speakers featuring screens, as well as making it Fire TV compatible.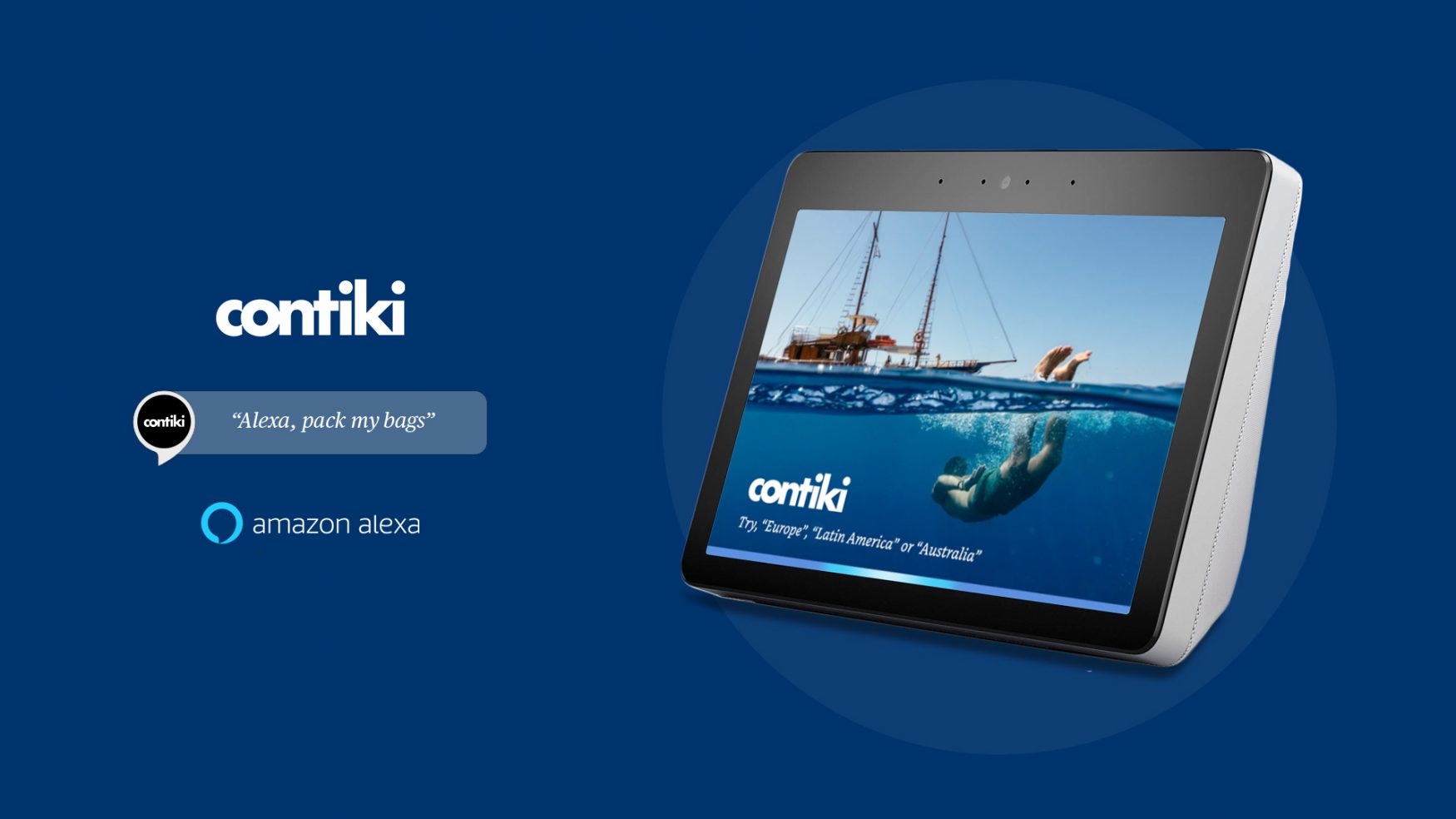 To continue enhancing and advancing the skill, we built a bespoke Content Management System (CMS) through WordPress. This allows the Contiki team to constantly add more destinations, adventure types and seasonal variations. Further, we added email integration, whereby Alexa collates your packing list into an interactive list within the Alexa app. This list is then emailed to the account attached to the user's Amazon ID.
Finally, we integrated Google Analytics to allow Contiki to track the popularity and interaction with different trip types. This helps them better understand their consumer base interests.
In November, "Pack My Bags", Contiki's voice skill will be unveiled at World Travel Market 2019. It is the first of its kind and we expect to see other travel companies follow suit. This is just the beginning of voice technology in travel.