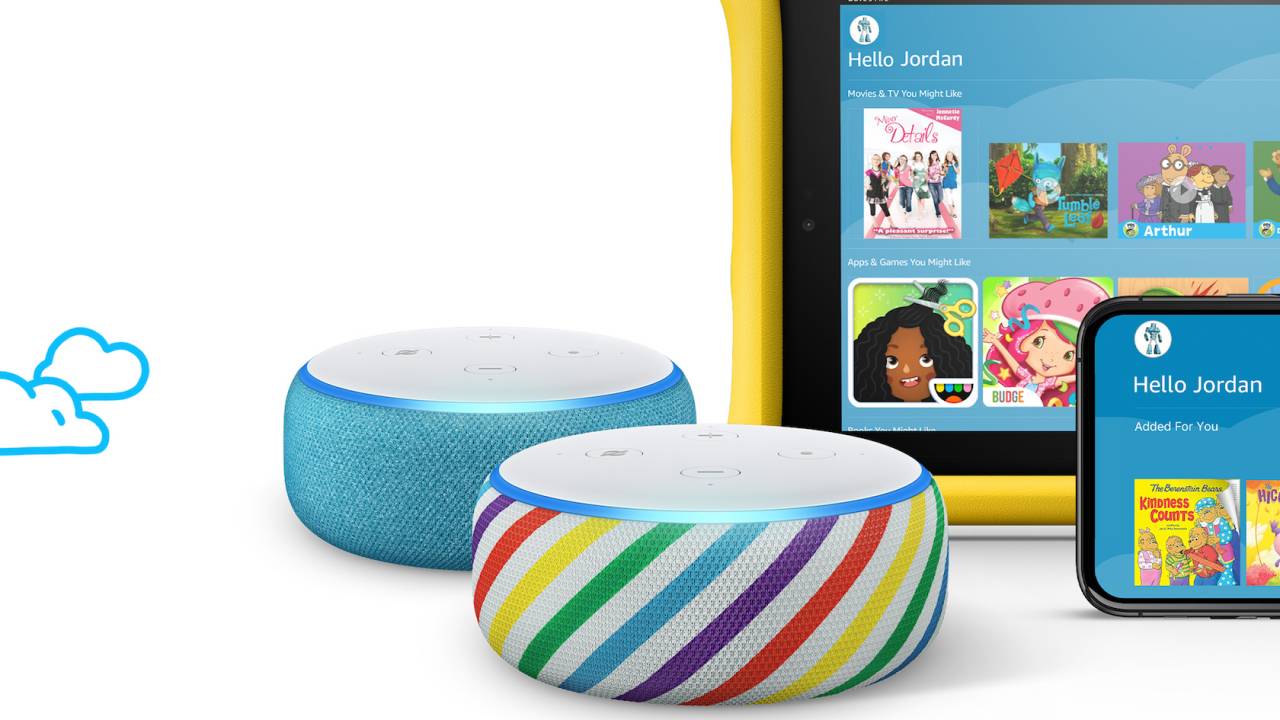 Voice skills create an ease of access to information like we have never seen before. After all, we speak faster than we type. Voice is hands-free and doesn't require the use of sight – users can access information instantly without any manual movement.
Amazon has identified the rapid growth of voice skills in the children's market, announcing the new Echo Dot Kids product range in June this year. The child-friendly Echo Dot differs from its parent (the regular Echo Dot) in a number of ways. Firstly, its responses are age-appropriate. For example, the Dot for kids will filter out explicit lyrics on Amazon Music. It is also possible to disable news updates and any adult-themed questioning. Parents are also able to define their child's age bracket to ensure content is tailored for their child.
Further, a dashboard of parental controls give parents the option to limit how many hours their child can actually use their Echo. Tracking allows parents to keep an eye on any communications with or misuse of the device.
The colourful smart speakers are becoming a mainstay in homes across the UK, US and beyond. So why is it that brands are turning to voice skills for kids to grow their market share?
Meet the family – Mum, Dad and Alexa…
Children are now growing up with voice assistants, some not knowing a life without them. For children's naturally inquisitive nature, voice technology is exciting and interactive. With a majority of children learning to speak before they can spell, write or type, it is also the first form of media most children will interact with. Some are even dubbing Alexa a "Digital Nanny".
Voice Skills are also far more accessible than traditional forms of media, creating accessibility for those with learning difficulties – such as dyslexia or ADHD – or sight issues. A report published by Common Sense Media explains how voice skills can help kids with spelling, sounding-out words, reading books aloud and assisting with dreaded maths homework.
Screen time has become an increasing concern for parents, with multiple studies indicating that too much screen time at a young age could be detrimental. Where Voice Skills are screen-less, parents are encouraging kids to interact with Smart Speakers in favour of screen time.
An opportunity for expansion into voice skills
A report from UK analysts Juniper Research predicts that the use of voice assistants will triple over the next 4 years from 2.5 billion today to 8 billion by 2025. Meanwhile, Amazon predicts voice is the next big shift in technology for user interfaces. Smart Speaker adoption doubled in the U.K. in 2018 rising to 9.5 million monthly active users. Amazon holds the dominant market share at 68% to Google's 26% and just 6% for other device makers. It's predicted that monthly Smart Speaker users will rise to 12.6 million in 2019. Globally, Smart Speaker installation is predicted to top 200 million by the end of this year.
With many parents turning to Alexa and Google Assistant for the reasons outlined above, it is unsurprising that child-focused brands are investing heavily into developing voice skills. A report by Forbes captured this aptly, explaining that:
"Alexa skills are a great fit for children because they bring characters to life. Brands and businesses that are focused on children's entertainment can immerse their audiences in fun, new ways and maintain a constant present in the home."
Further, In-Skill Purchasing has created a channel for brands to monetise their voice skills. Amazon have integrated premium "for-kids" skills into their Alexa product range. 'Fire for Kids' (known as 'FreeTime Unlimited' in the US) gives users unlimited access to thousands of child-friendly books, movies, TV shows, premium Alexa skills, educational apps, and games. Subscription to this service costs between £1.99 – £7.99 per month (with cost depending on how many users you would like).
Listening to the future
A major hang-up for brands looking to invest in voice skills are user concerns around privacy and smart speaker use. This is particularly amplified when it comes to children. Amazon are experiencing increased scrutiny, after controversy surrounding their usage of user transcripts from interactions with Alexa. However, Amazon has responded by allowing users to delete any and all of their data. Further, the Echo Dot for Kids has a number of aforementioned parental controls.
With Amazon's recent unveiling of their new range of wearable tech (including Alexa smart ring, smart glasses and earbuds), the tech giant shows no signs of abating when it comes to voice. The voice revolution has only just begun, now is the time to get in at the ground floor.
FX Digital is a digital agency, providing digital solutions across emerging technologies. We specialise in the creation of Voice Skills across Amazon Alexa and Google Assist. To learn more about our services get in touch here.