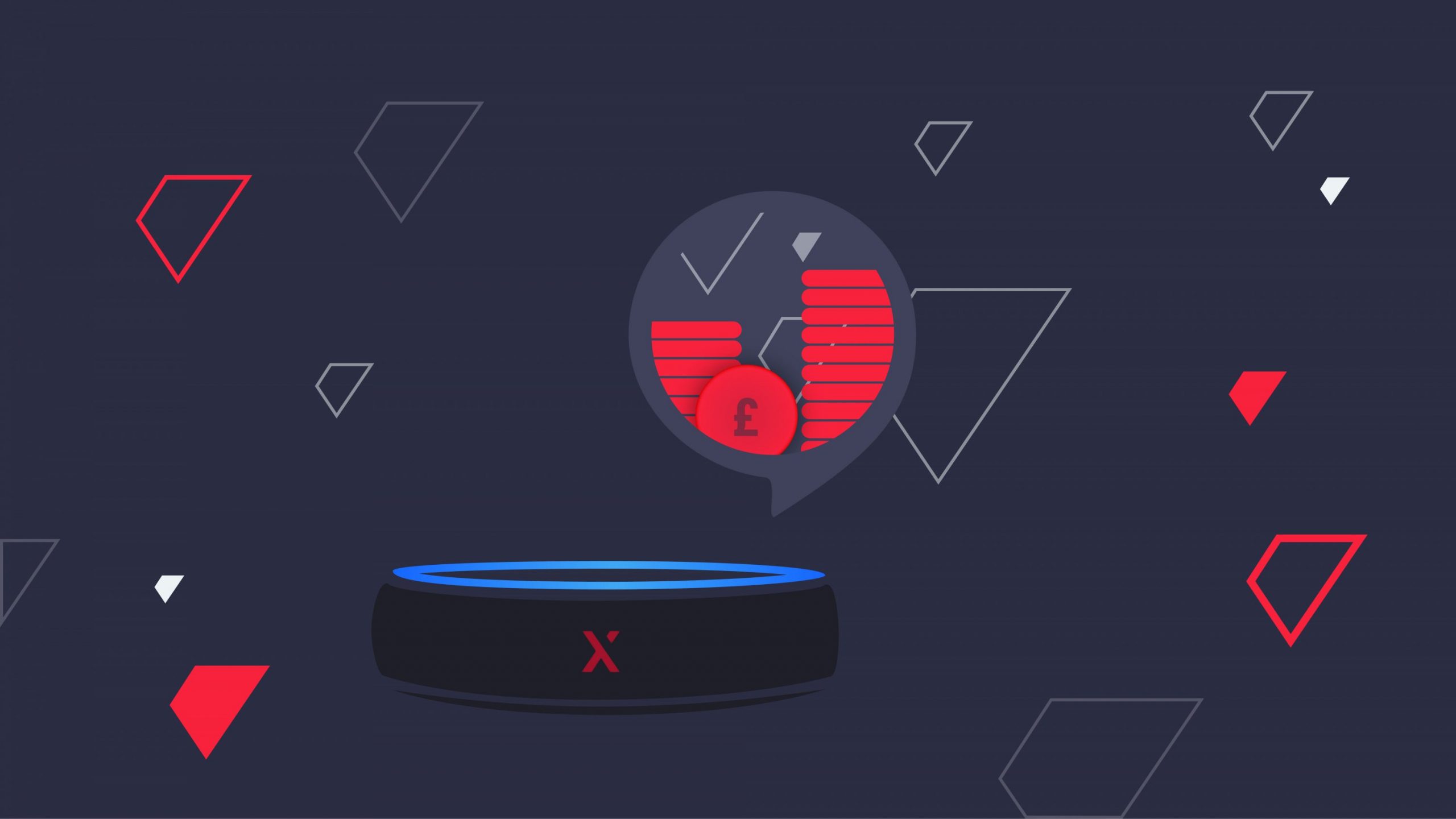 In-Skill Purchasing (ISP) refers to any digital content or features that a user can buy within an Alexa Skill experience. ISP has blown the doors of opportunity offered by voice skills wide-open, with brands able to more effectively monetise their voice skills.
Intended as a way of incentivising more businesses to create skills for Alexa (as well as further boosting revenues for Amazon), the ISP model of monetisation was introduced by Amazon in late 2017. After all, while creating a voice skill can be a fantastic branding exercise, many companies wonder how they can get a return on investment.
What types of In-Skill Purchasing are there?
Users can now utilise In-Skill Purchasing to buy digital content or features. There are three types of in-skill purchases you can add to your skill.
Entitlement
The most used ISP format favoured by brands which create a Voice Skill, this is a digital product that doesn't expire. This could be a game expansion pack or extra characters. An example of this would be the popular Alexa trivia game Question of the Day, where the user can opt to purchase extra Game Packs.
Subscription
This provides ongoing content or a service. Customers are charged on a recurring basis unless they decide to cancel, similar to the Netflix model. An example of a subscription model is the Sleep Sounds skill. Users that sign up to the paid monthly subscription receive a number of premium benefits, including the ability to mix two sounds together. However, this ISP model is less popular, as Amazon Prime members usually receive a discount on subscriptions, therefore generating more revenue for Amazon through Prime subscriptions and less for the App itself.
Consumable
This is a purchase that provides content or features that can be purchased, depleted and purchased again. Examples of this would be in-game currency, extra lives or day passes for premium content. An example of a consumable would be Would You Rather? For Family which offers a 7 day pass which grants access to all the premium content offered under their subscription service, but only for 7 days.
How does In-Skill Purchasing work?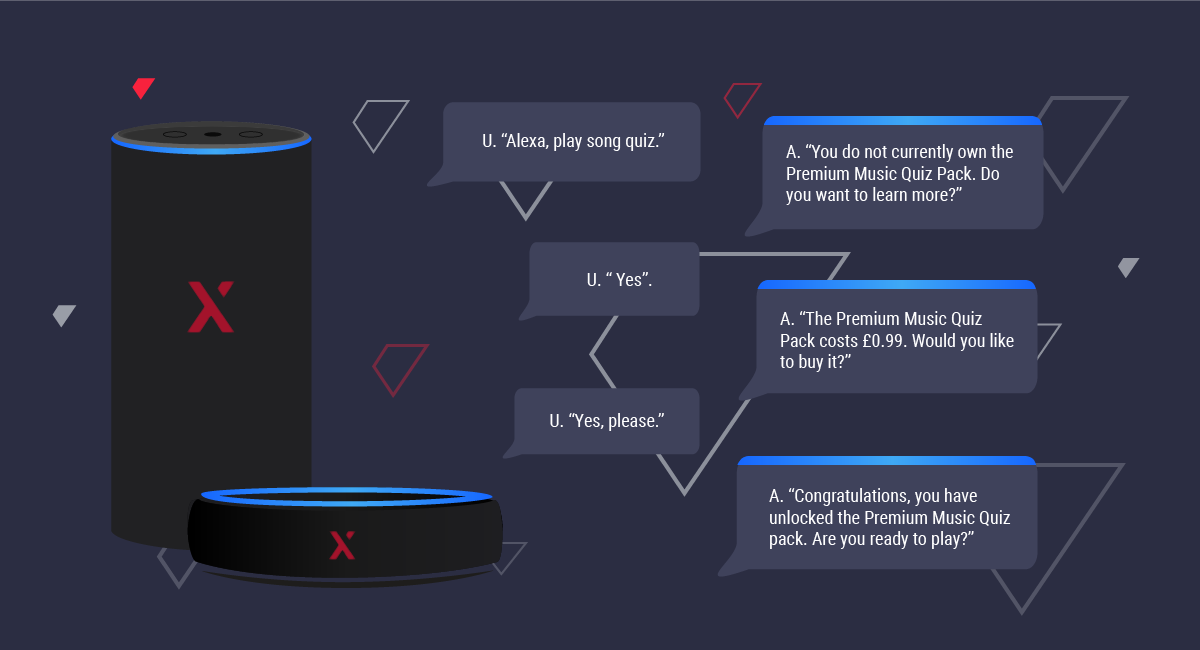 In-Skill Purchasing works when users interact with their Amazon Alexa. Skill creators can up-sell premium content to the user. Users can make Payment through their Amazon account, which is linked to Alexa through user authorisation.
Can you use In-Skill Purchasing with kids' skills?
The short answer to this question is "yes, but only in the USA"! Amazon have introduce ISP for Kids' skills, but only on the US Amazon store. If predictions prove to be correct the UK and Europe can expect Kids' ISP to be rolled out by mid-2020. In-skill purchasing for kids' skills works in a different way to regular ISP, by adding an extra layer of security. When a child agrees to an up-charge, the primary Amazon account holder will receive an SMS or email requesting that the transaction be approved or denied within 24 hours. Therefore, if a parent approves the purchase, the child will gain access to the content.
What's in it for Amazon?
For every ISP a customer makes, Amazon takes a cut of the revenue. The general rule is that Amazon takes 30% of each sale. If a brand sold premium content for £1, Amazon would receive £0.30 of the sale. The brand would keep the other £0.70. This split works the same whether your ISP is a piece of entitlement, subscription or consumable piece of content.
The future of monetisation through Alexa
The introduction of Amazon Pay for Alexa Skills has opened up another revenue stream for brands utilising voice skills. Voice skill developers can sell physical goods or services through their skill. The user doesn't even have to leave the experience to enter credit card information. London Theatre Direct have enabled customers to purchase tickets for West End musicals through their personal box office assistant.
No-one can say with exact certainty where Amazon will go next with monetisation through Alexa. The discussion around whether Amazon will introduce advertising in Alexa voice skills remains a hot topic. Mila Seslar, writer for Onix, explains
"So far, Amazon has been preoccupied with expanding Alexa customer base. To ensure the customers get a delightful ad-free experience, the corporation strictly forbids individual developers to include advertisements in their Alexa skills."
However, it seems unlikely that Alexa will stay ad-free forever. With voice skill developers unable to charge for their products, Amazon has to continue to develop alternative revenue streams. Therefore, Alexa could well become the newest advertising platform for large brands. Advertising could come in a variety of forms, from allowing In-Skill Ads, to Amazon charging brands to advertise through Alexa's Q & A feature. Whatever the future of voice, Amazon will continue to evolve Alexa to ensure that brands continue to build for it.